German Panther tank 1/16
I have updated my tank, that I bought on Ebay for several years ago. The tank is a 1/16 scale German Panther from WW2.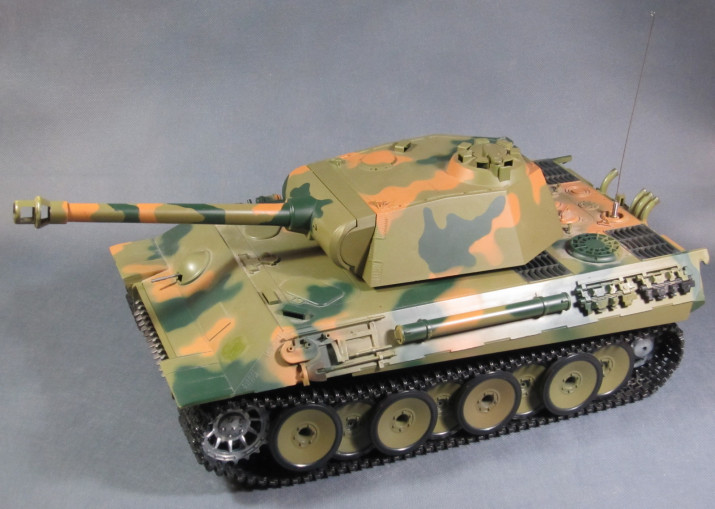 I have removed all the electronic from the tank and replaced it with:
Arduino Due CPU system (32 bit, 72 MHz)
Dual H bridge motor controller (PWM)
Tower turning motor controller (PWM)
Servo controlled barrel
Two sound cards (one for engine sound and one for sound effects)
Machin gun LED firing effect
Laser LED for gun assitance
Metal tracks and metal wheels
The tank is controller with my DX9 transmitter and are using 8 channels.
Tank electronics
Here is an overview of all the electronics.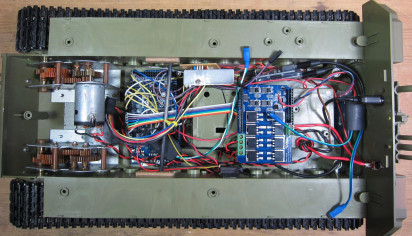 The two speakers fits perfectly under the back grills. It is possible to control the volume from the transmitter.
Tank tracks and wheels
I bought a set of metal tracks on Ebay. They are really good quality and look nice on the tank.
Other details
The machine gun has a red LED placed on top of it so the light simulates gun fire. The flashing light together with the machine gun sound is a great effect.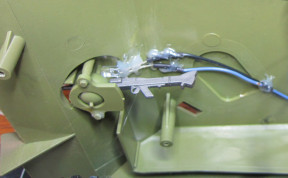 The USB plug to update the CPU system is placed on the back together with the main power switch.
Tank video
Here is a video of the tank in action.