Bow and arrows for live role-playing
I have made a bow from a branch of a hazelnut tree. It was actual pretty easy, but took a long time to get the right tension. The bow is rather weak, only about 8 kg of force, so it is easy for kids to use it. It can shoot about 60 meters and the arrows has an exit speed of app. 130 km/h.
The diameter of the branch was about 4 cm, so I had to remove a lot of material. I think a diameter of about 3 cm would had been better and easier.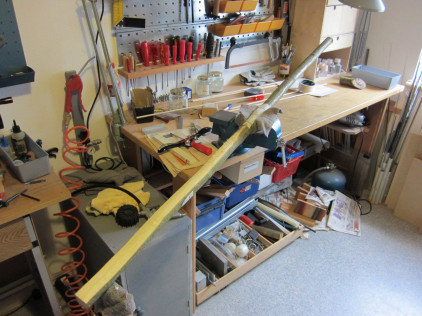 Here is the finished bow.

I wrapped some leather around the handle to make it look and feel better.
Arrows
I made some arrows from sticks that I bought in a local shop. Some of the arrows use feathers from ducks, but I also bought some feathers as they are better and looks nicer.
For live role-playing I also made some special arrows. The 'tip' it different and very soft, so you can shoot safely at each other. They are quite fun to play with.
The wood plate is inserted to guarantee that the shaft can't move through the soft part.
The bow is very fun to shoot with, and many of my friend had already tried it. It is just so much nicer to shoot with a 'real' bow than a toy bow.